During 16th – 22nd October 2023, Chief Assistant Dr. Georgi Georgiev from Dobrudzha Agricultural Institute visited Namik Kemal University in Tekirdag, Republic of Turkey, under Staff Mobility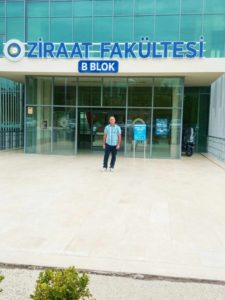 Contract № 2022-1-BG01-KA131-00055751 within the Erasmus+ Program for training between program countries.
During his visit he got acquainted in detail with the history and activity of Namik Kemal University, the agrarian faculty of which is specialized in agrotechnology, biotechnology, breeding and genetics, plant protection, vegetable production, horticulture, viticulture, soil science and plant nutrition, animal breeding, agricultural economics and processing and control of agricultural produce.
The faculty was established in 2006 and provides BA and post-graduate training in agriculture. The students are trained in 22 departments in the specialties of agrarian engineering, food engineering and biotechnologies.
After graduations, the students easily find jobs at ministries, municipalities and other public institutions and organizations, small and medium-sized agricultural enterprises, unions and chambers in the agrarian sector both in their regions and in the entire country. They also have the opportunity to work for private enterprises, especially in the field of soil science, seeds, fertilizers, pesticides, irrigation, fodders, foods, landscaping, animal breeding and agricultural machines.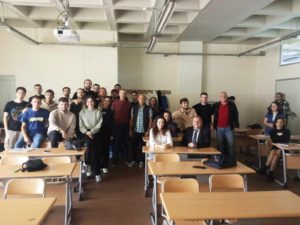 What's more – they can open their own consultancy services and laboratories, establish private businesses and undertake own agricultural activities. Another alternative is to work as researchers, continuing with their post-graduate training in universities and research institutions of their own choice.
Chief assistant Georgi Georgiev made an extensive presentation in front of the students and professors of the Agricultural Department on Developing conventional and herbicide-resistant sunflower hybrids with high productivity and resistance to biotic and abiotic factors by combining conventional methods with biotechnology.
After the presentation, important and interesting questions of the students and professors were discussed; they were related to drought and its effect on sunflower, to pollination of parental lines and developing of new hybrids. The necessity of providing spatial isolation of the seed production areas was also considered.
Dr. Georgiev emphasized the importance of manual pollination of the inflorescences or by collecting pollen. He also acquainted the student and the research staff of the agricultural faculty with the necessity of leaf treatment during budding stage and flowering with boron and humic fertilizers with the aim of obtaining better pollination of sunflower and formation of full seed set. Dr. Georgiev also established useful contacts with honored scientists and teachers at the Namik Kemal University: Prof. Dr. Metin Tuna, Head of the Agriculture Department in the Agrarian Faculty, whose activity is related to training of students in field agriculture, fodder production and vegetable production, and with Prof. Dr. Fadul Onemly, an expert in oil seed crops. Dr. Georgiev had detailed discussions with Prof. Onemly on topics of sunflower pollination, the most suitable time for pollen collecting, castration, etc. The professor from the Turkish university acquainted the young researcher with new publications in agriculture and agrotechnology of oil seed crops subjected to abiotic and biotic stress.
The two scientists discussed the possibility of writing joint papers that would be useful for the students at the university.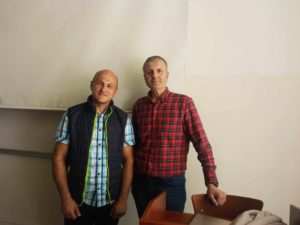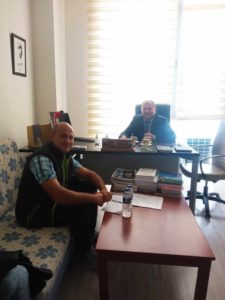 Dr. Georgiev visited laboratories for investigating the fatty-acid composition of oil seed crops, soil analysis, plant nutrition, quality of sowing and planting materials. In these laboratories, he was informed by four laboratory workers about the detailed study of seed samples for oil content, oleic, palmitic and stearic acid content, etc.
The information Dr. Georgiev exchanged with Prof. Metin Tuna and Prof. Fadul Onemly is highly valuable for future researches in the field of oil seed sunflower breeding. This information will undoubtedly be useful for future researches within the sunflower breeding program of Dobrudzha Agricultural Institute and for writing joint research papers and exchange of research literature. Furthermore, at the agrarian faculty Dr. Georgiev had the opportunity to involve in the future DAI – General Toshevo, the Bulgarian Agricultural Academy and the Namik Kemal University in Tekirdag in joint international projects.