The Laboratory of biotechnology is situated in the Laboratory complex in the town of Dobrich; it is the youngest structural unit of the Institute. It was established in 1987 and was provided with modern equipment soon after that. The main directions of research work in it are development of new initial breeding material and intensification of the breeding process.
Dr. Ivan Belchev works at this laboratory. He has dedicated his career to a profession that is rare to encounter. People even hardly know what a biotechnologist does.
Dr. Belchev is a graduate of Plovdiv University with a specialty in Biology. He has been working at Dobrudzha Agricultural Institute since 1984.
"After the changes in 1989 many of my colleagues quit the Institute and the research work continued in only one direction, the so called haploidy – developing genetically uniform lines for a short period of time" – Dr. Belchev begins to tell his story.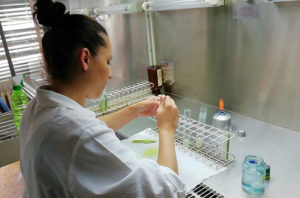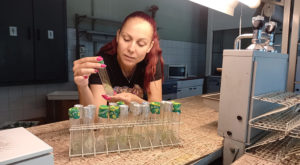 Laboratory assistant Vera Alexieva  
The work of the biotechnologist is quite a responsible one since he or she is able to literally make miracles with the plants: "We are applying the anther culture technique. Anther comes from the Latin word for the pollen-bearing part of the stamen. The procedure is done by collecting spikes prior to heading; the anthers are removed under sterile conditions, and are placed in nutrition media; after about 30 days, small formations emerge. These are called calli.
After that, they are transferred to a generating nutrition medium and plants are obtained which are called regenerants. What is interesting in this technique is that we are obtaining a plant from an anther, while in nature a seed is needed to propagate a plant. After obtaining the green regenerants, we keep them in cold for a while. They are usually produced in June-July, when the conditions are not suitable for growing such tender plantlets.
We keep them at low temperature. In autumn, we plant them in tin boxes. During the winter months, we grow them under low temperature to further harden them. After new tillers emerge, we take them out and dip them in colchicine solution. Colchicine is extracted from the plant autumn crocus, which has the ability to double the chromosome number since the anther contains immature pollen. This helps for instant breeding because the two genomes are identical. The aim is to make uniform plants. We don't need tall or short, awned or awnless ones" – continues with his story the biotechnologist.
"Right now, the anther culture method is applied to common winter wheat and triticale (a man-made crop, which combines traits from durum wheat and rye; its name is derived from the Latin names for wheat and rye – triticum and secale).Triticale is a promising crop. A young researcher at the Institute has set a goal to develop varieties for production of dietetic bread. The crops is currently used mainly for animal forage" – points out Dr. Belchev.
Dr. Belchev previously worked on cloning of different plants. His dream was to clone the endemic type of edelweiss that grows in the Bulgarian mountain Pirin and make it flourish all over the place. Unfortunately, it did not happen because the plant could not easily adapt to the harsh mountainous conditions and perished within a month. Now he is growing a garden version of the flower, which, however is not as white and fluffy as the original one.
"Some people were interested in the miniature types of roses, which are sold in markets and florist shops. I tried to clone them. It worked, as it did with many other plants. I used to experiment a lot, but these days are now behind me. It was very exciting at the beginning, because it was an innovative method. On the whole, this technique does not have any disadvantages. Only, sometimes changes occur in the calli. Occasionally, chromosome changes are observed in them and deviations from the original materials may happen. In the 1980's, the production of carnations in the Netherlands was entirely based on clonal micro propagation. Many other plants, including some orchids, are propagated in this manner"- the doctor added.
According to the biotechnologist, the most topical materials now are the awnless forms obtained at the laboratory. He pointed out that they are unique in his experience and it is difficult to say why they occurred.
Dr. Belchev is devoted to his profession and to him his research work and his plants are the entire world. His love for them made him choose the vocation of a biotechnologist. Apart from the cereals he is working with, he grows as a hobby different flowers and herbs at the laboratory. Sometimes he gives them as presents to his female colleagues, just to make them happy.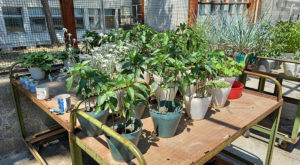 "I have absolutely no flowers at home. I spend all my time here, at the laboratory. I enjoy my flowers at work, I go home only to sleep. My beauty is here, during the daytime. Each plant is a separate world to me. The plants are unknowable by nature, and enchanting. Each has its own charm, just like people. Man has been given eyes to appreciate their beauty", shares his thoughts Dr. Belchev.