"Science is necessary to the people. A country, which does not develop its science, inevitably turns into a colony".
                                                                              Frederic Joliot Curie
The history of the agrarian science in Dobrudzha is a long and multi-faced one. The years since its beginning in 1941 are imprinted in time with the research work and creativity of several generations of scientists, who are now receiving the recognition they deserve for the legacy they left.
The historical prerequisites for the emergence of the agrarian science in Dobrudzha go back in time to 7th September 1940 when the Craiova peace treaty was signed and the region of South Dobrudzha, until then unjustly within the boundaries of Romania, was restored to Bulgaria. With an Act issued on 8th October 1940, following an Order by the Ministry of Agriculture and State Property, the field properties left after the withdrawal of the Romanians were handed over to the agronomist Trifon Chutukov, who, together with the founders of the future agricultural research station, settled in the so called "Lower farm". This farm consisted of several old buildings only: an ironworks, a piggery, a chicken coop, small and modest living premises and a well. The settlement was without electricity. Later, a cowshed for 20 head of cattle and a two-storey residence with 4 apartments were added.
In 1941, the experimental field was enlisted in the state budget of Bulgaria as "Agricultural research station with seed production", and its first director Hristophor Dobrev was the only researcher at the station until 1943. After 1944, the station was renamed State Agricultural Experimental Institute Dobrich, which was also known under the name Regional Agricultural Research Institute Tolbuhin until its relocation to General Toshevo.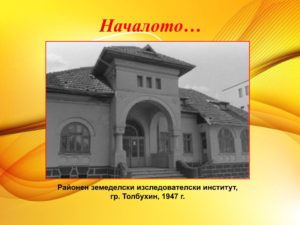 The research and experimental work was directed towards Breeding and improvement work on plants and Agro technology. Comparative varietal trials with wheat, maize, barley, vetch, bean and sunflower were initiated to determine the own and foreign cultivars and landraces most suitable for Dobrudzha region, and breeding and improvement work on wheat, sunflower, barley and maize also began. Agro technology trials were designed to find out which were the most suitable agronomy practices for this region. The seed production of wheat cultivars No14 started.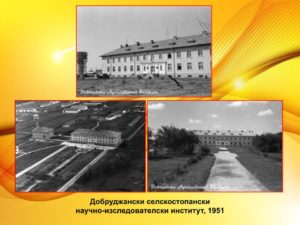 In September 1951, Dobrudzha Agricultural Institute was established with a decree of the Council of Ministers No 236 from March 8th. Large-scale experimental and research work began and the departments of Agriculture, Plant breeding, Agri-forestry amelioration, Cattle breeding and Mechanization of Agriculture were established.
At the beginning, only six researchers worked at the institute, but shortly they were joint by many young and ambitious specialists and their number soon reached 35.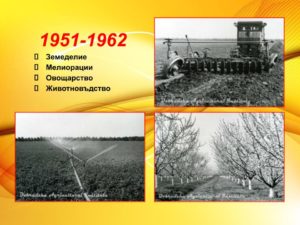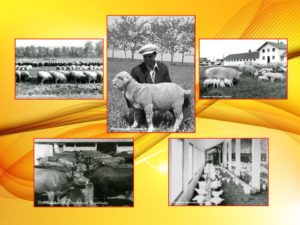 During the first decade, the institute was a complex structure, where researches on general agriculture, amelioration, cattle breeding and horticulture were carried out.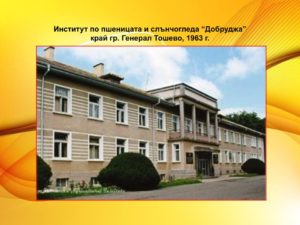 In 1962, it began specializing in breeding and technology of wheat and sunflower and in 1963  it was renamed Institute of Wheat and Sunflower "Dobrudzha" with three major departments of Wheat Breeding, Sunflower Breeding and Field Crops Technologies .Two major sectors of production were developed: plant breeding and cattle rearing.
In 2001, following a structural reform in the agriculture of Republic of Bulgaria, the institute was once again renamed Dobrudzha Agricultural Institute, as it is known today.
The breeding of cereals has always been a priority of the research work at the institute. From 1951 to 1962 three common wheat varieties were develop here and introduced in production: 100-10, 100-23 and Tolbuhin 1, cultivar 100-10 being sown on an area of 1 mil da in 1962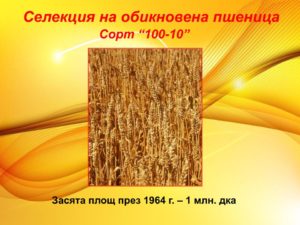 In 1963, the first national program on wheat breeding was approved with the aim of developing high-yielding and high quality common winter wheat varieties resistant to lodging, cold and rust, suitable for mechanized harvesting and grown under high level of agriculture. The active collection and in-depth study of variable initial breeding materials began. Lines and varieties of Russian, Italian, French and Yugoslavian origin were involved in breeding.
The laboratories of plant pathology, entomology, physiology and cytogenetics were established. Research work with the new methods of experimental mutagenesis and distant hybridization started.
Implementing the program for developing of wheat cultivars with remarkably high productivity potential to be grown under conditions with and without irrigation, cultivars Kaliakra 2, Levent, Slavyanka, Rusalka, Yubiley, Kiten, Zlatoklas, Vratsa, Dobrudzha 1, etc., were distributed during 1968 – 1978.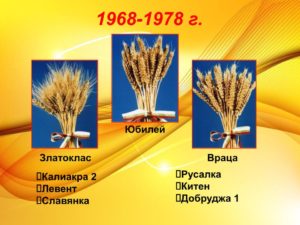 Until 1980, 23 wheat cultivars were developed, which equaled by their parameters the best varieties of the world breeding
The name of Todor Rachinsky should be mentioned here, the most prominent Bulgarian breeder, who, together with his team, developed 22 wheat varieties. In 1973, his cultivar Rusalka ranked second by yield among 30 of the best cultivars of the world breeding within the Network for international variety testing in Nebraska, USA, which involved 32 countries from Europe, America, Asia and Africa.
In two consecutive years, 1977 and 1978, again in Nebraska, cultivar Yubiley, developed by Todor Rachinsky, ranked first by productivity and plasticity, this time competing with 48 countries from all over the world. The areas sown with this cultivar in Bulgaria exceeded 1 mil da by that time.
During 1977-1978, his cultivar Charodeyka gave record-braking yields exceeding 980 kg of grain per da, and in 1978, under experimental conditions, Charodeyka gave yields exceeding 1308 kg/da.
This marked the peak of Bulgarian breeding of wheat at the end of the 1970's.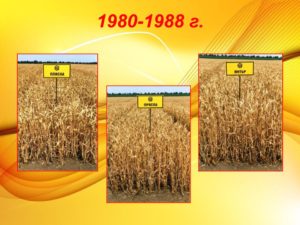 During 1980 – 1988, 14 new cultivars were released and distributed, among them the widely used in practice cultivars Pliska, Pryaspa, Yantur, Charodeyka, Kardam, Skitiya, Kaloyan, Krapets, Zagore and Slavyanka 196.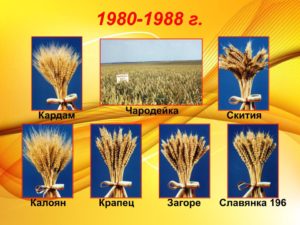 The period 1990-2010 was also fruitful for the breeding of common winter wheat, when 50 new cultivars were released and registered by the Institute. Widely popular became cultivars Todora, Kristal, Galateya, Albena, Aglika, Karat, Enola, Lazarka, Merilin, Dragana, etc.
Since 2010, another 15 wheat cultivars were developed, among them Pchelina, Kosara, Rada, Kami, Katarzhina, Kristalina, Zhana, Fani, etc.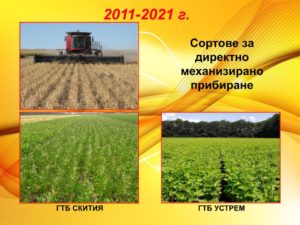 Proudly we claim that Dobrudzha Agricultural Institute is the place where bread is being born. The marketed cultivars of the institute successfully combine high yield with quality and have over time proved to be highly suitable for the conditions of our country.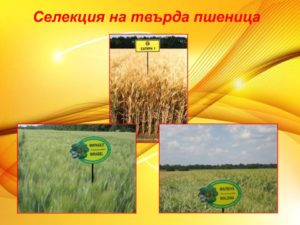 The breeding of durum wheat is focused on cold resistance and the suitability of the new cultivars for growing under the conditions of Dobrudzha and North Bulgaria. Cultivars Saturn 1, Neptun 2, Severina and Estida were registered.
The most recent addition to durum wheat breeding are cultivars Mirela, Melina, Malena and Mirabel.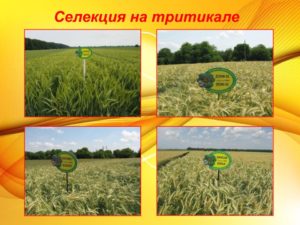 The hexaplod triticales have the highest percent from the breeding work on triticale, which started in 1963. In 1967, the first Bulgarian 42-chromosome Bulgarian triticale was created and thus Bulgaria became the 7th country in the world to develop this crop. Eleven triticale cultivars were released, the most demanded of which are Atila, Akord, Respekt and Kolorit. The most recent ones, developed after 2010, are Dobrudzhanets, Lovchanets, Doni 52, Blagovest and Borislav.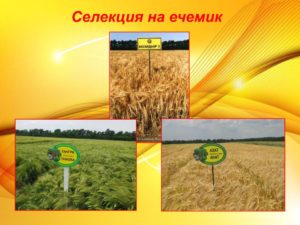 The systematic breeding of barley started as early as 1951. Cultivars Dobrudzha 1 and Dobrudzha 2 were developed. After 1990, malting and fodder barley is being bred. Until 2011, 2 cultivars were released: Tsvetelina and Kaskadyor 3, which is well known to the brewers. After 2011, another 8 cultivars were developed: Ahat, Yaspis, Tangra, Pagane, Onyx, Fanagoriya, Larimar and Brilyant. We are hoping that the cereal cultivars of our most recent breeding released in the past two years will be soon in production: common wheat Shibil, Tsveta, Chudomira, Moresa and Fedora, triticale Avitohol and barley Heliodor.
The breeding of cereal crops is assisted by four laboratories of plant pathology, technological properties, physiology and bio chemistry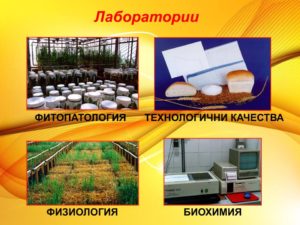 In the recent years, the interest of foreign companies to the Bulgarian cereal crops is increasing. During 2016 – 2021, eleven Bulgarian cultivars were registered in the varietal list of Republic of Turkey, including 7 common wheat cultivars – Enola, Lazarka, Merilin, Bozhana, Dragana, Iveta and Stoyana; one durum wheat cultivar – Severina; 1 triticale cultivar – Respekt; and 2 barley varieties – Ahat and Tangra.
Breeding of sunflower started in 1945 with the development of the first variety No 75, resistant to the then new broomrape race, and which was registered and distributed in 1952.
As a result from population breeding, another seven varieties were developed at the institute, among them the large-seeded Stadion and Favorit, which are the most demanded on the market.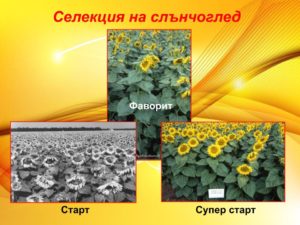 In 1963, the breeding of sunflower hybrids started in Bulgaria. The first self-pollinated lines of the institute were developed and investigated. The first hybrid released in 1979 was symbolically named Start. Three years later, due to low hybrid seed yield, the father line of Start was replaced and thus hybrid Super Start was obtained.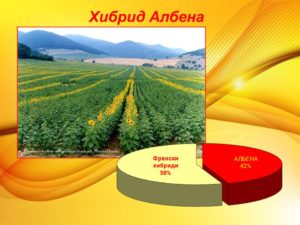 A new page in the history of sunflower breeding was opened in December 1988, when our sunflower hybrid was registered and enlisted in the National Catalogue of France under the name Albena; in 1989 it was registered in Bulgaria, too. The hybrid became a national standard at the French varietal commission and was grown with high success from 1990 to 1999, occupying 42% of the area sown with sunflower in France, which was 11.5 million da. Albena is undoubtedly the top achievement of sunflower breeding in Bulgaria.
Fourteen joint hybrids were registered in partnership with primarily French or France-based companies. For 10 years, from 1990 to 2000, as a result from the growing of Albena and the joint hybrids Santafe and San Luka, the institute received 82 million French Franks of royalty.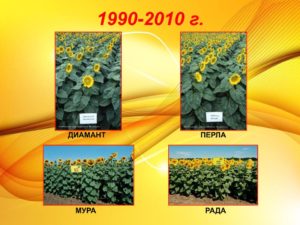 During 1990-2010, twenty-two sunflower varieties and hybrids were developed and registered, among them Diamant, Perla, Perfekt, Maritsa, Mura, Rada, Valin, etc. They were with high yield and oil content and resistant to new races of downy mildew and broomrape. Intensive work began also in a new direction of sunflower breeding – herbicide resistance.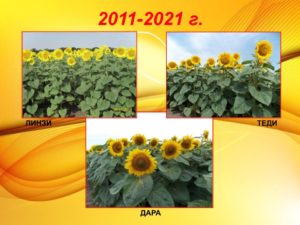 In the last 10 years, twenty-five sunflower hybrids were developed at the institute, among them Lindzi, Deveda, Tedy, the imi-resistant Suny imi, the express-tolerant Dara, Enigma CLP and Dalena CLP, which are suitable for growing with the  Clearfield Plus technology, etc. Many of them were registered and released in Romania, Ukraine, Russia and Moldova.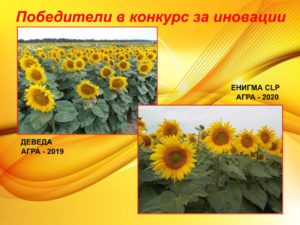 Hybrids Deveda and Enigma were granted Diplomas as winners of the innovations competition at the International Fair Agra in Plovdiv in 2019 and 2020, respectively.
Breeding work with bean started in 1941, and within two years the first varietal trial involving seven cultivars was carried out. Two major tasks were simultaneously targeted: testing the suitability of the cultivars used in Bulgaria and developing of new varieties for growing in the region of Dobrudzha. In 1978, the department of Breeding of leguminous crops was established.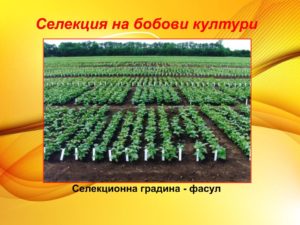 By 2010, twenty-one bean varieties were developed, suitable for both two-stage and direct harvesting, the most successful of them Dobrudzhanka 2, Dobrudzhanski 7, Astor, Vulkan, Prelom, Abritus, Dobrudzhanski ran and Elixir.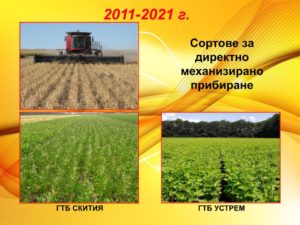 In the following decade, another five varieties were developed – Pukliv 2, Vezhen, Ustrem, Blyan and Skitiya; four of these varieties are characterized by erect habit suitable for direct mechanized harvesting. Cultivar Vezhen has white-and-red colored beans and is being prepared for organic production.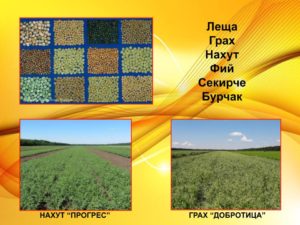 Since 1980, apart from the bean varieties, 24 other leguminous cultivars were released and distributed: 13 lentil varieties, 6 pea varieties, 2 varieties of chick pea and one variety of each vetch, bitter vetch and peavine.
With the aim to successfully combine classical breeding with contemporary bio technology achievements, the Biotechnology Laboratory was established in 1987.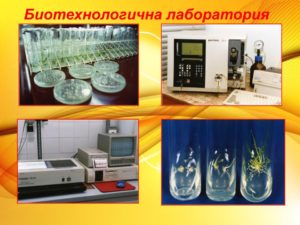 The main directions of its activity are developing of initial breeding materials and intensification of the breeding process.
To develop new initial breeding material in wheat, callus culture from immature embryos in combination with gamma ray treatment and plant regeneration are used. The anther culture technique is applied large-scale for production of dihaploid lines of common winter wheat.
In sunflower, the methods of direct organogenesis and somatic embryo genesis from immature zygotic embryos are used. The first stable working model for accelerated production of genetically stable dihaploid sunflower lines was published. As a result, a large number of lines with breeding value were developed.
For storage and further study of the breeding lines, varieties and hybrids of field crops developed here, in 1995 a Laboratory of plant genetic resources was established; now over 5000 accessions of wheat, sunflower, triticale, barley, rye, sorghum, bean, lentil, pea, chick pea and vetch are collected and stored in it.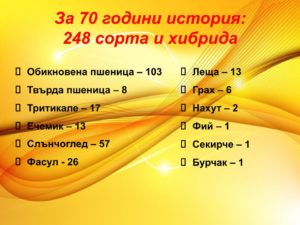 The ultimate assessment on the results from the overall breeding activity point out that during the 70-year history, a total of 248 field crop varieties and hybrids were developed at the institute, of which 141 cereal crop varieties (including 103 common winter wheat, 8 durum wheat, 17 triticale, 13 barley cultivars), 57 varieties and hybrids of sunflower and 50 leguminous cultivars (including 26 bean, 13 lentil, 2 chick pea, 6 pea varieties and 1 variety of each vetch, peavine and bitter vetch).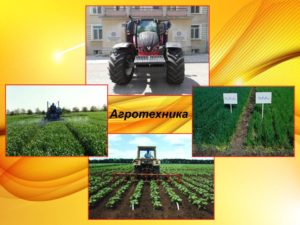 The agrotechnology researches are directed towards developing of differential components and elements from the agronomy practices for growing of field crops depending on the specific requirements and biological productivity of the developed varieties and hybrids. The problems of crop rotation, soil tillage, fertilization, weed control and pests are being clarified.
The researches on mechanization are closely related to the technological and exploitation assessment of different machines, to the development and testing of complex lines of machines and aggregates necessary for the introduction of new growing technologies, the harvesting of the crops and the post-harvest tillage of the areas.
The achievements of the institute in cattle breeding should not be underestimated. Researches on animal husbandry (poultry and pig farming, cattle rearing and sheep breeding) were carried out from 1952 to 1972. The north-eastern fine-fleeced sheep was bred, which is now the main sheep breed reared in the region of Dobrudzha, but in the recent years it has become an endangered one.
The only herd of about 1300 sheep is now being reared at Dobrudzha Agricultural Institute. The assessment of the experts from the national Executive Agency for Breeding and Reproduction in Livestock, who perform annual bonitisation of livestock, is that at Dobrudzha Agricultural Institute "1st rank breeding of fine-fleeced sheep is carried out".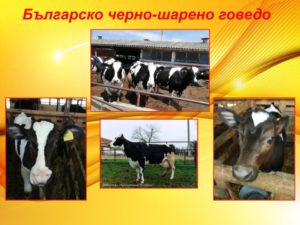 In cattle breeding, the main breed is the Bulgarian speckle park cattle, which is used as donor of high milk yield in crosses to local breeds. A herd of 450 animals is maintained.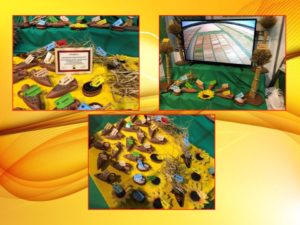 Rich and multi-faced is the long research and applied activity of the institute. Thousands of research and popular papers have been published in Bulgaria and abroad, and our researchers have been attending a countless number of international symposia, conferences, workshops, congresses, seminars, scientific sessions, exhibitions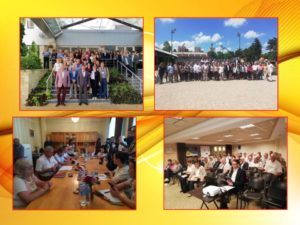 Our experts are members of prestigious international organizations, they are well known beyond the borders of Bulgaria and Europe and enjoy well-deserved respect.
Dobrudzha Agricultural Institute has now a history of 70 years. The long path of its development was marked by constant search, new discoveries and actual achievements, which raised the level of Bulgarian agricultural science. This path was walked by generations of researchers who dedicated their lives and energy to the creation of something new and big. Today's generation of researchers from Dobrudzha Agricultural Institute still holds the position that the agricultural science is needed by our country and society and is constantly contributing to their progress and prosperity
With our present achievements we have crossed the threshold of the third millennium with dignity and are able to preserve the rich scientific legacy and traditions. What has been accomplished before us is our moral obligation to follow in the steps of our predecessors and hold the leadership in the agrarian science and practice. We consider our mission to constantly expand our knowledge and experience and invest all our creativity, desire, perseverance and hardworking in the building of a modern agricultural science.